BRIEF DESCRIPTION OF RADIO-THERMAL IMAGING TECHNOLOGIES IN GEOLOGY ON THE EXAMPLE OF OIL AND GAS CONDENSATE FIELDS
Keywords:
Radio-Thermal Imaging Technologies, Remote sensing of the Earth, electromagnetic radiation, radio brightness temperature, aerospace images, Earth's crust, thermal exploration, rocks, geothermal anomalies, geothermal cross-sections, geological structures,
Abstract
The brief physical foundations of Radio-Thermal Imaging Technologies are considered, the geophysical aspects of deciphering and interpreting aerospace data, the relationship of satellite images with the deep structure of the Earth are shown with an illust
References
Vinnichenko N.K., Vinnichenko O.N., Glushchenko I.V., Stepchenko V.N., Bagryantsev V.A. Theory and practice of thermal exploration technologies based on multispectral satellite imagery data. - Geoinformatics. 2015, №1(53) pp.27-38
Gubin V.N., Kovalev A.A. Space geology of Belarus. - Minsk: Lazurak, 2008. pp. 7-14, 42-44, 90-104
Onegov V.L. Mathematical modeling of geological environments based on thermal imaging. Dissertation abstract. Ulyanovsk. 2011
Seminsky K.Zh. Faulting in the Earth's crust and related processes: an applied aspect. Irkutsk Scientific Center SB RAS. pp.534-542
Timurziev A.I. Mantle sources of hydrocarbon generation: geological and geophysical features and predictive and search criteria for mapping; patterns of oil and gas content of the interior as a reflection of the unloading of mantle hydrocarbon systems in the Earth's crust. Tectonics and stratigraphy, 2015, issue 42. pp. 121
Tronin A.A. Space thermal imaging in the study of seismic activity. Doctoral dissertation. St. Petersburg - 2010
Tumanov V.R. The method of video thermal imaging generalization in geological exploration. / Tumanov V.R., Mukhamedyarov R.D. - In the book. "The thermal field of the Earth and methods of its study". - Moscow: RIO RGGRU. - 2008. - pp.250-256
Tumanov V.R. Cheban V.D. Application of the method of thermal imaging generalization for assessing the minds accumulated in carbohydrates in Western Egypt. Oil & Gas Industry of Ukraine. 2013. №3. pp. 10-16
Tyapkin K.F. A new look at geotectogenesis due to a change in the position of the Earth's tectonosphere relative to its axis of rotation // Geology and Minerals of the World Ocean. 2014. No. 1. pp. 5-19.
Sharkov E.A. Radiothermal remote sensing of the Earth: physical foundations. Volume 1. IKI. Moscow. 2014. pp.20-26
Shutko A.M. Microwave radiometry of the water surface and soils. Moscow. THE SCIENCE. 1986. pp. 10-11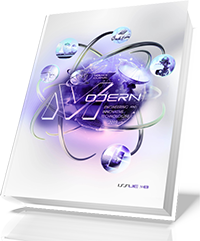 How to Cite
Степченко, В., Родна, В., Багрянцев, В., & Шель, В. (2022). BRIEF DESCRIPTION OF RADIO-THERMAL IMAGING TECHNOLOGIES IN GEOLOGY ON THE EXAMPLE OF OIL AND GAS CONDENSATE FIELDS. Modern Engineering and Innovative Technologies, 1(24-01), 34–40. https://doi.org/10.30890/2567-5273.2022-24-01-029
License
Copyright (c) 2022 Authors
This work is licensed under a Creative Commons Attribution 4.0 International License.